Can we help? Are You in Pain?
If you are in pain we guarantee to get you out of pain quickly and save your tooth. If your dentist has confirmed you need root canal therapy, we will do our best to see you as soon as possible.
We will take a digital X-ray and carry out a number of tests to confirm the diagnosis. Usually, at the same appointment, we will be able to undertake the treatment and complete the case too. Your tooth will be saved and the discomfort will be over.
On occasion, Drs Webber, Lamb, and Patel will request a Cone Beam Computed Tomography (CBCT) scan to view very fine details inside teeth to provide the best diagnosis and treatment options. More details about CBCT scans can be found here
Your next step will be a crown from your dentist to protect the tooth. So, if you think you have a root canal problem, don't delay, call us on: 020 7935 6393 or fax us on 020 7935 6060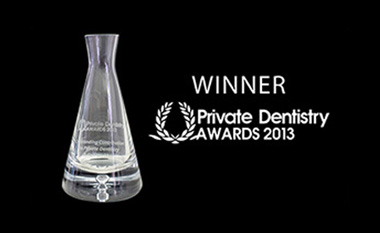 Private Dentistry Award for Julian Webber
Julian Webber was recently recognised for his "Outstanding Contribution to Private Dentistry" at the Private Dentistry Awards. With over 35 years dedicated to Endodontics, his role in developing this specialty in the UK has been acknowledged with this prestigious national award.