WELCOME TO THE HARLEY STREET CENTRE FOR ENDODONTICS
EXCELLENCE IN ROOT CANAL TREATMENT
STATE OF THE ART TREATMENT FACILITIES
THOUSANDS OF PATIENTS SUCCESSFULLY TREATED
YOUR COMFORT AND WELL-BEING IS OUR PRIORITY
Welcome to Harley Street Centre for Endodontics
We are a leading dental centre dedicated to Endodontics, the treatment carried out to save natural teeth, often referred to as root canal therapy. Our specialists, Julian Webber and Trevor Lamb, offer some of the best endodontic treatment this country can offer and welcome referrals from dentists all over the UK and abroad. We pride ourselves on our care and quality of treatment and for the past 18 years we have successfully saved thousands of teeth for our many patients.
The Harley Street Centre for Endodontics - Lockdown update
Dear Colleague and Patients of the Harley Street Centre for Endodontics 
You will now be aware that the government has announced that England will be moving into a moderate lockdown from the 5th November until the 2nd December due to the on-going Covid-19 pandemic. Please be advised that the Harley Street Centre for Endodontics will remain fully operational during this time. Guidelines from the government have made it clear that dental clinics should stay open as normal and patients should attend in the normal way — indeed, healthy oral status and the avoidance of endodontic disease is crucial to support the immune system fighting against any infection, Covid included.
If you have an upcoming appointment with Dr Webber or Dr Lamb, please attend as you normally would. If you wish to refer your patients or self refer as a patient please call or email the practice. If you have been to the centre since the end of the first lockdown, you will be familiar with our new procedures including the pre-visit questions and triaging. These will continue for the foreseeable future as will the procedures on site.
The Centre reopened after the first lockdown on June 15th and since then both Dr Webber and Dr Lamb have been able to provide the full range of high quality cutting edge endodontic treatment in our clean and safe clinical environment. We want to assure you that we have the best possible protocols and measures in place to secure your safety while you are with us.
All our staff are fully trained in COVID-19 cross contamination protocols and procedures, will always make sure that your needs are met and your journey through the centre remains a pleasant one.
We look forward to providing you with the best possible endodontic care.
So, what can you expect when you next visit?
You will notice some changes at your next appointment which include the following:
"Dear Julian and team,
Just a quick note to say a huge thank-you for giving me a happy experience at the dentist! As you know, I was extremely nervous about my treatment, but you and Debra were very reassuring and you carried out an excellent job.
Best wishes JS"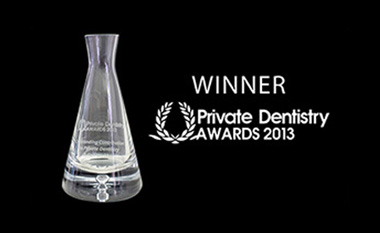 Private Dentistry Award for Julian Webber
Julian Webber was recently recognised for his "Outstanding Contribution to Private Dentistry" at the Private Dentistry Awards. With over 35 years dedicated to Endodontics, his role in developing this specialty in the UK has been acknowledged with this prestigious national award.