WELCOME TO THE HARLEY STREET CENTRE FOR ENDODONTICS
EXCELLENCE IN ROOT CANAL TREATMENT
STATE OF THE ART TREATMENT FACILITIES
THOUSANDS OF PATIENTS SUCCESSFULLY TREATED
YOUR COMFORT AND WELL-BEING IS OUR PRIORITY
Welcome to Harley Street Centre for Endodontics
We are a leading dental centre dedicated to Endodontics, the treatment carried out to save natural teeth, often referred to as root canal therapy. Our specialists, Julian Webber and Trevor Lamb, offer some of the best endodontic treatment this country can offer and welcome referrals from dentists all over the UK and abroad. We pride ourselves on our care and quality of treatment and for the past 18 years we have successfully saved thousands of teeth for our many patients.
The Harley Street Centre for Endodontics - Lockdown update
Dear Colleague and Patients of the Harley Street Centre for Endodontics 
The Harley Street Centre for Endodontics remains open and with no restrictions on dental treatment, you are actively encouraged to keep your appointments. We continue to follow our high standards in cross infection control with strict adherence to the current and recommended guidelines for the safe practice of dentistry at this time.
What next?
Please continue to attend your appointments. We have excellent infection control procedures along with a robust triaging policy to ensure the safety of both patients and staff.
If you are worried about your attendance please contact us to discuss your concerns and we can always postpone your treatment till a later date.
We continue to recommend that patients in the high-risk category to delay any non-essential treatment until further guidance has been given by the relevant authorities.
When you arrive:
We advise that you wear a mask at all times while inside the dental practice and only remove your mask at the request of the dental professional. We will continue to check your temperature and if this is above 37.8C, you will be advised to rebook your treatment and to follow government guidelines. Please do not arrive more than 5 minutes early for an appointment due to social distancing guidelines.
As you enter the building you will need to use the alcohol disinfectant rub to disinfectant your hands.
The treatment rooms will be prepared prior to your appointment with all surfaces disinfected after each patient. The air purification/exchange units will continue to be used throughout the day in each surgery. We have sourced PPE and unlike the start of the Pandemic (March 2020 in the UK), there is no shortage.
Please do not be concerned as we continue to maintain high standards of cross infection control and provide you with the best possible endodontic care
Stay safe and please contact us if you have any questions.
Dr Webber, Dr Lamb and the team at the Harley Street Centre for Endodontics
So, what can you expect when you next visit?
You will notice some changes at your next appointment which include the following:
"Dear Julian and team,
Just a quick note to say a huge thank-you for giving me a happy experience at the dentist! As you know, I was extremely nervous about my treatment, but you and Debra were very reassuring and you carried out an excellent job.
Best wishes JS"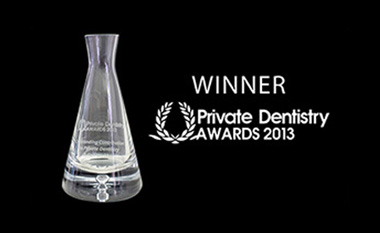 Private Dentistry Award for Julian Webber
Julian Webber was recently recognised for his "Outstanding Contribution to Private Dentistry" at the Private Dentistry Awards. With over 35 years dedicated to Endodontics, his role in developing this specialty in the UK has been acknowledged with this prestigious national award.